About Us
North Houston BEST, a 501 c(3) organization, is one of the many hubs for
Best Robotics Inc.
, which is an organization dedicated to fostering science and engineering among high school and middle school students throughout the country. Each year, a competition is held where students construct a robot from a limited set of materials. The robot competes in a game against the other schools where the robots may be removing "dangerous" materials, rescuing aliens, or saving the world.
The North Houston BEST Hub supports schools from the Montgomery County and North Harris County area.
History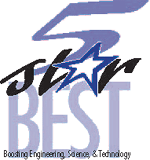 In 1999, Montgomery College (now Lone Star College - Montgomery) founded "Four-Star BEST" (which was renamed later to 5-Star BEST) to support students in the North Harris/Montgomery County area. In 2008, Baker Hughes has answered the call to create the North Houston BEST corporate hub. However, we are doing so with full cooperation with Lone Star College and therefore, will not change venues. After our local event, we send two teams to the "Texas BEST" regional competition.
Since then, hundreds of students have participated in the exciting robotics events held at places like Kingwood College, The Woodlands Mall, and the Cynthia Woods Mitchell Pavilion. Several teams have advanced to competition at the national level.
The events have been covered by the Villager, the Conroe Courier, the Houston Chronicle, and a cable television station. Each year the events are more exciting and more fun. Most importantly, students from every school learned more about engineering design, manufacturing, electronics, and robotics.
Are you looking for some excitement? Come and watch the smartest students around here compete to see who is "BEST!"
See results, photos, and information from our
past competitions
in the
Games
section.
Board of Directors
President - Paul Lutes
Vice President - Sarvesh Tyagi
Secretary/Treasurer - Adam Wilson
At Large - Ken Serdar
At Large - GJ Snyder
Links