Teams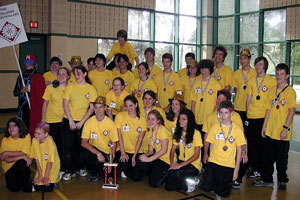 North Houston BEST invites high school and middle school students from the Montgomery County and North Harris County area to participate in our annual robotics competition. BEST (Boosting Engineering, Science, and Technology) is a competition held each year where students construct a robot from a limited set of materials. The materials are provided to each school free of charge.
The robot competes in a game where a set of tasks has been defined. The robots may be removing "dangerous" materials, rescuing aliens, or saving the world. In addition, many teams compete for an overall award demonstrating their design process, school spirit, and community involvement. Winners advance to a 3-day visit to a local university (past venues include Texas Tech and SMU) where students tour research facilities, take part in science games, listen to speakers, and compete against teams from around the country.
Team Sign Up
To get your school involved contact our North Houston BEST Hub Director GJ Snyder at
hubdirector@northhoustonbest.org
.
Note:
There are a limitied number of teams who can compete each year. Check out the
Game
for this year to see a list of who's competing.